Root Canal Therapy in Helensvale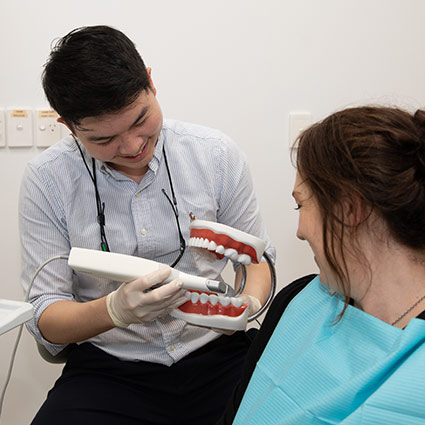 If you're hoping to save a tooth, we'll work with you to find the best solution. We may recommend a root canal for an inflamed or infected tooth that is still restorable. Our team works hard to keep this procedure as comfortable and straightforward as we can, walking you through every step of the process until your smile is effortless again.
What to Expect
Many patients who need root canals first come in as emergency appointments. Infections of the tooth and nerve can cause substantial pain. Our first priority is always to relieve discomfort so you can sleep at night. We may focus on relief first before having you come back in for further treatment.
NEW PATIENTS

This process often takes two or three appointments, depending on your unique case.
Dr Wong (Dentist)
or
Dr Yew (Dentist)
will thoroughly clean out the affected root and replace the filling on top of the tooth to prevent reinfection. We'll then have you come back in three to six months' time to make sure the issue has resolved and proceed with a crown.
Setting You Up for Long-Term Success
When you commit to getting a root canal, it's essential that you also commit to getting a crown. We generally recommend that all root canal patients choose crowns as a long-term fix to protect your tooth and prevent any further infection or damage from setting in. While we'll always respect your decision, we've seen too many patients who didn't want a crown end up losing the tooth, wasting all the effort and money they'd invested to protect that tooth.
We'll follow up with you individually to see how your mouth is healing and make sure you stay healthy long term. Our goal is to help you keep your natural teeth whenever possible, using the most conservative measure of care to keep your smile bright and clean.
Schedule a Better Smile Today
Whatever your needs, we've got you covered.
Book your appointment now.
CONTACT US

Root Canal Therapy Helensvale, Gold Coast QLD | (07) 5665 7189