Full Mouth Restorations in Helensvale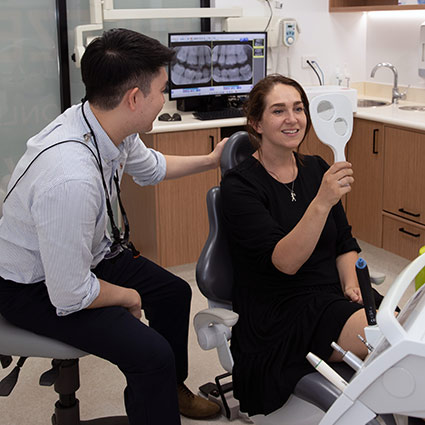 If you've suffered widespread dental damage, we can help reverse the clock. Our full mouth restorations build your teeth back up to what they were before, improving your oral health, feel, and function and giving you a brilliant smile you'll want to keep showing off.
Who Can Benefit From This Technique
We offer this service for many older patients and people who have suffered extensive damage from chronic grinding. Dentists Dr Wong and Dr Yew will build your teeth back up, creating more space in your bite. We make small teeth longer and taller again, improving the aesthetics of your mouth as a result.
NEW PATIENTS

While smile makeovers involving veneers and crowns simply cover up the damage, a full mouth restoration actually builds your teeth back up to their proper size and functioning.
Our comprehensive approach at
Breeze Dental
draws from a variety of techniques and options to bring your mouth back to what it should be, giving you confidence when you look in the mirror and better oral health that will last far into the future.
Crafting the Perfect Smile for You
This restorative approach is different from other treatments we offer, but it uses many of the same materials. We may utilise fillings, crowns, bridges, and implants as we craft a unique solution for you, depending on the state of each individual tooth and your mouth as a whole.
For example, one patient might need us to build 10 teeth on the top and another 10 teeth on the bottom while also placing two inserts into the gums. Another patient might need a denture as part of the new smile. Our approach focuses on restoring the teeth to how they looked before damage began to wear away at your smile, using whichever materials fit your needs so you can grin flawlessly again.
Bring Your Smile Back Today
We can't wait to amaze you with what's possible. Schedule your appointment now.
CONTACT US

Full Mouth Restorations Helensvale, Gold Coast QLD | (07) 5665 7189