Extractions in Helensvale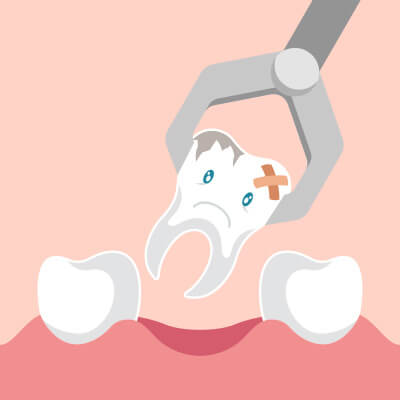 Getting a problematic tooth removed shouldn't be a scary experience. If you need one or more teeth extracted, we'll help make the process easy and anxiety free. Our dentists at Breeze Dental provide smooth and painless extractions to improve your oral health and bring your smile back to where it needs to be.
Personalised Treatment for Every Need
Every extraction begins with an initial consultation, where Dr Wong (Dentist) or Dr Yew (Dentist) will carefully review your case and determine the best course of treatment. We'll talk with you about whether it's possible to save the affected tooth and which option you'd like to pursue. If we recommend removing the tooth, we can help you fill in the gap afterwards with a full or partial denture, implants, or a bridge.
NEW PATIENTS

The method of treatment depends on the complexity of the tooth and surrounding structures. We take our time to determine whether any nearby nerves or other complications make your situation more complex. For most patients, we can proceed with a simple, straightforward extraction after numbing your mouth so you don't feel any pain.
Even if your case requires a surgical procedure, the process isn't as scary as it sounds. Expect to spend a bit more time in the chair as we remove a bit of bone, raise up your gums, or manoeuvre around a nerve.
Sticking With You As You Heal
Our dentists give clear, easy-to-understand postoperative instructions to help you recover well at home. Your stitches are dissolvable, so you don't have to come back to have them removed. We'll teach you how to avoid getting a dry socket, what signs to watch for, and what to do for the next few weeks. We also send you home with some spare gauze in case you need it.
Feel free to call us with any questions. The day after your procedure, we'll give a follow-up call to see how you're feeling and make sure everything is healing well.
Schedule Your Visit Now
We'd love to meet your dental needs with empathy and excellence.
Book your appointment today.
CONTACT US

Extractions Helensvale, Gold Coast QLD | (07) 5665 7189