Dental Implants in Helensvale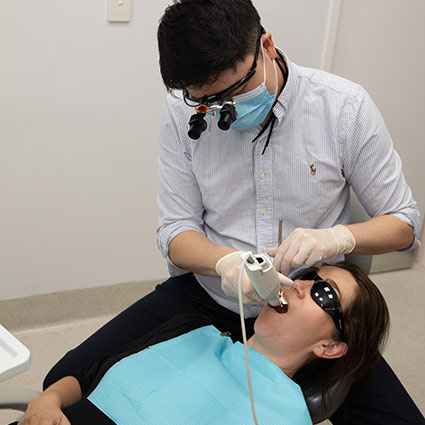 Do you wish you could turn back the clock and restore what's missing? If you're in need of dental implants, we can help. Implants are an ideal solution for missing teeth, since they look and feel just like a natural tooth. Even better, they're rooted into your mouth, meaning they're not going anywhere.
Optimise Your Smile, One Tooth at a Time
If you're considering implants, we'll sit down with you during an initial consultation to determine if you're a suitable candidate for this procedure. We always look at the bigger picture instead of narrowly focusing on one or two individual missing teeth. For example, if you have severe crowding, it's important to fix the whole-mouth issue first before putting in implants, which can't be moved.
NEW PATIENTS

Our dentists at Breeze Dental will talk with you about every option that might fit your specific situation. Some patients might benefit from a full mouth restoration. If you're missing more than seven or eight teeth, a full or partial denture might also be appropriate. We understand that finances also factor into your decision. Since implants cost more than many other treatment options, doing more than one or two implants would add up to a significant bill.
Everything we do is tailored to your expectations and needs. No two cases are alike, and we'll work with you to personalise treatment to your specific preferences.
What to Expect
Dr Wong (Dentist) and Dr Yew (Dentist) have excellent relationships with oral surgeons we can refer you to for this procedure.
The timeline and number of appointments depend on your particular mouth structure and whether you need bone grafts. From start to finish, the process generally takes three to four months for simple cases. Those who need grafting should expect a process of six months up to a year.
We're a preferred provider, and we'll be offering Afterpay soon.
Restore Your Smile Today
If you aren't sure which treatment option is best for you, we'll assess your mouth and talk with you about recommendations. Book now.
CONTACT US

Dental Implants Helensvale, Gold Coast QLD | (07) 5665 7189