Children's Dentistry in Helensvale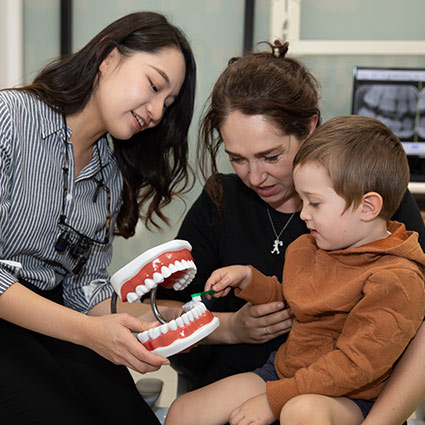 It's never too early to start teaching your child about oral health. Our child-friendly dental care helps kids relax while they get used to going to the dentist and begin developing a value for their teeth. Dental care is about more than just getting the job done. At Breeze Dental, we're also passionate about teaching kids the ins and outs of oral hygiene, setting them up for a lifetime of healthy teeth.
Setting the Foundation for Oral Health
We won't rush your child's appointment, especially if your little one is nervous. It's okay if a small child is too scared to open up and let us have a look. If it's too soon to do a full cleaning, we might start slowly with a checkup or just give your child a chance to get familiar with being in the clinic for a few visits.
NEW PATIENTS

There's a lot of value in simply having your child come in for a checkup every six months, even if we're not doing a cleaning yet. This gives us an idea of whether kids need treatment, and it gives your kids an idea of what going to the dentist is like.
Once your child feels more comfortable in the chair, we'll start doing regular cleans along with each checkup. Dr Yew (Dentist) makes visits relaxing and fun as she explains the process and gives a few goodies so children look forward to coming in.
Better Dental Care for Kids
If your child needs a filling or extraction, we do a good job of calming nerves and talking young patients through every step. If you have a young child who needs multiple treatments or an older kid who needs braces, we'll refer you in the right direction.
During every appointment, we talk to both kids and parents about proper techniques for oral hygiene at home. We have an oversized toothbrush and teeth we'll use to demonstrate circular, sideways, and up-and-down brushing patterns. The most important aspect of home care is using the correct type of toothbrush and toothpaste for your child's age. You can access the Child Dental Benefits Schedule. We also do bulk billing.
Invest in Your Child's Smile Today
Show your child just how relaxing dental care can be.
Book now.
CONTACT US

Children's Dentistry Helensvale, Gold Coast QLD | (07) 5665 7189