Checkup and Clean in Helensvale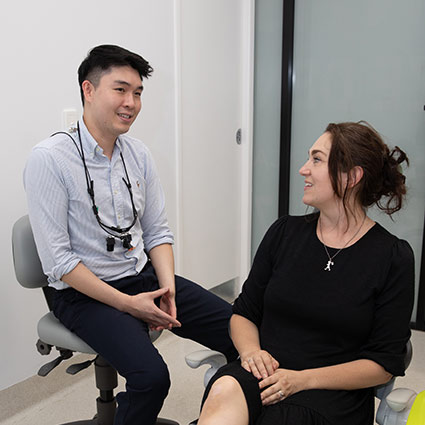 If you've been putting off your checkup and clean, it's time to make your oral health a priority. Regular maintenance care prevents hidden issues from getting worse and causing you more pain and expenses down the track.
We make checkup and cleans easy at Breeze Dental. With state-of-the-art technology and friendly customer service, we walk you through exactly what you need, putting your comfort first so every visit to the dentist is a good one.
Attention to Detail You Can Trust
Our dentists, Dr Wong and Dr Yew, do the checkup and cleaning themselves to ensure a higher quality of care. In addition to a thorough cleaning to prevent any signs of buildup or decay, we may also do X-rays as needed.
NEW PATIENTS

We take photos of your teeth often, since that provides a reference we can use to compare if an issue like grinding is getting worse. During your visit, we'll take snapshots of your top and bottom teeth, jaws, smile, and profile from all angles. These are standard pictures, not X-ray imaging, so there's no radiation involved.
Keeping You Comfortable and Calm
You don't need to worry about coming in, even if you have sensitive teeth. We keep our care gentle and listen carefully to your concerns, so you can relax in the chair. The dentist may talk with you about using a painkiller or numbing gel on your gums before we begin if that will help you have a happier visit.
For most patients, we recommend a checkup every six months. It's best to come in once every one to three months, however, if you wear braces. Those with gum disease need a checkup every three months until your condition is stabilised. Once your oral health has improved, you'll only need to come in once every six months.
Schedule Your Visit Now
Dental care doesn't have to be uncomfortable. Book your visit today.
CONTACT US

Checkup and Clean Helensvale, Gold Coast QLD | (07) 5665 7189